Detalii Film - The Spiderwick Chronicles (2008)
5 years in urma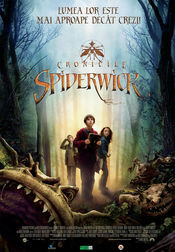 Categorie: Aventura, Familie, Fantastic
In Romana: The Spiderwick Chronicles (2008)
Descriere: Cărţile din mult îndrăgita serie The Spiderwick Chronicles, sunt adaptate pentru ecran într-o fantezie care-ţi dezvăluie lumea ascunsă din jurul tău. Totul începe când familia Grace, formată din gemenii Jared şi Simon, sora Mallory şi mama lor părăsesc New York-ul, în urma divorţului, şi se mută în vechea casă a unchiului lor, Arthur Spiderwick. "The Spiderwick Chronicles" este o fantezie plină de aventuri, populată cu creaturi dintr-o lume nevăzută. Când copiii Grace stau faţă în faţă cu aceste creaturi, până şi conflictele de familie se aplanează ca prin minune. Povesta gravitează în jurul copiilor Grace, formată din cei doi gemeni, interpretaţi de Freddie Highmore, şi sora lor mai mare Mallory (Sarah Bolger), şi a mamei lor, recent divorţată (Mary- Louise Parker). Familia se mută în casă unchiului Arthur Spiderwick (David Strathairn) şi a mătuşii Lucinda (Joan Plowright).
Filmul
The Spiderwick Chronicles (2008)
face parte din categoria
Aventura
si il puteti viziona gratis doar pe cinemaxtv.ro. Va dorim vizionare placuta !
Tag-uri: The Spiderwick Chronicles 2008 film online, The Spiderwick Chronicles 2008 online gratis, The Spiderwick Chronicles film online, The Spiderwick Chronicles film tradus in romana, The Spiderwick Chronicles gratis online, The Spiderwick Chronicles gratis pe net, The Spiderwick Chronicles online hd, The Spiderwick Chronicles online tradus in romana, vezi Cronicile Spiderwick online pe net, vizioneaza Cronicile Spiderwick online, watch Cronicile Spiderwick full for free
The Spiderwick Chronicles (2008)
Comentarii
Comenteaza Filmul